Should you rent or buy a home?
There is plenty of debate on this topic, and Australians seem to have an almost unhealthy fixation on it, and with interest rates low and a climbing unemployment rate the Australian economy seems like it could be brewing a perfect storm should you get the decision wrong.
This infographic I got from www.buisinessinsider.com back in July of 2014 may step you through the decision-making process with a little more ease.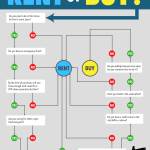 However like with most money questions, there's no one, perfect or universal answer.
As always the preface is that it really depends on your own specific situation, including considerations of the state of your savings to whether you're willing to coordinate getting a leaky tap fixed.
When you start going through the chart please keep in mind that your answer is just for now, a snapshot at this moment of life, and if the chart says you're better off renting, it certainly doesn't mean you have to rent forever.
In six months, a year, or even a matter of weeks, your situation could change and so could your answer.
As always should you wish to discuss this or any other aspect of your financial situation the Inspired Money team are only more than happy to assist you with them.
About the Author
Conrad Francis is an Executive of the highest calibre. Entrepreneurial in spirit, he is also driven by witnessing the success of his clients. With nearly 25 years experience in Banking & Finance, Conrad's depth of experience and understanding of wealth creation, combined with his natural instinct to innovate, mean he provides creative and highly effective wealth creation strategies. Read more here…